Yujin

Media Info
Japanese
ユジン
Translation
Yujin
Dub Name
Eugene
Red Raven
Nickname(s)
Ota Red (オタレッド)
Otacross's disciple
Game Debut
Danball Senki (PSP)
Anime Debut
Episode 21
Appears in
Game, Anime
Voice Actor
Keisuke Komoto
Personal Info
Gender
Male
Status
Alive
Occupation
Otaku, LBX Player
Affiliation(s)
Ota Rangers, Akihabara
LBX:
Bibinbird X
ZX0
Achievement(s)
2050 Artemis: 4th Place
2051 Artemis: D Block Finalist
Yujin (ユジン), also known as Ota Red (オタレッド), is a veteran LBX player trained by Otacross in the Danball Senki series.
Appearance
In Otaranger uniform, he wears his sentai-colored tracksuit while donning a handmade ranger helmet with an X-visor, beak-like mouthguard and owl-winged ears.
Description
As the leader of the Ota Rangers, Yujin acts as their leader and despite the team's goofy antics, he generally acts rational and caring towards his teammates. This is especially noticeable in his battles as he's the Ota Ranger that focuses on battling the most. When not in suit, he's more shy, but overall he has a big heart and a love for justice. Yujin has no tolerance for people that discard their friends and allies as trash, evidenced by his reaction to Daiki sacrificing his teammates. However, he also tries to forgive people and inspire them to improve in the future. Yujin also has respect for his rivals such as Ban Yamano and wishes to have more fun battles.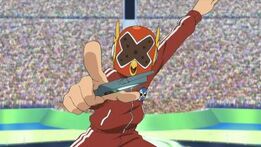 Chronology
In episode 21, Yujin is announced as one of the participants of D Block, and is noted by Ban to be one of the few entrants in the tournament competing solo. Yujin defeats all of his opponents with little effort and makes it to the finals of D Block, where he's set to face off against Daiki and Team Sendou.
Trivia
Yujin's other identity comes from the Super Sentai inspiration, as the Red Ranger leader type.
Prior to his identity, his color theme is red.
Ad blocker interference detected!
Wikia is a free-to-use site that makes money from advertising. We have a modified experience for viewers using ad blockers

Wikia is not accessible if you've made further modifications. Remove the custom ad blocker rule(s) and the page will load as expected.