The 'Weapon Form' (ウェポンフォーム, Ueponn Foomu) are Ikaros Force and Ikaros Zero's special modes as they transform into weapons for each other within battle.
Description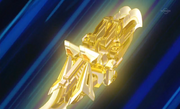 Created from the
Proto I
reserve units, the Ikaros models are capable of transforming into weapons using their Multi-Dimensional Joints mechanism. Respectively, a long sword for
Ikaros Zero
and twin sword for
Ikaros Force
.
Ad blocker interference detected!
Wikia is a free-to-use site that makes money from advertising. We have a modified experience for viewers using ad blockers

Wikia is not accessible if you've made further modifications. Remove the custom ad blocker rule(s) and the page will load as expected.