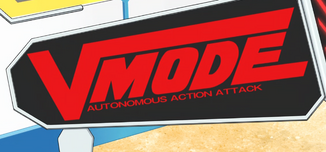 Special Modes (特殊モード) are emergency functions that serve as an LBX's power-up form, enabling the LBX model's abilities to be heightened beyond its normal fighting parameters. Once the mode is activated, the LBX player's CCM also transforms into one with an extended screen interface.
In the original game and its remakes, the special mode is activated when its HP meter is below 25%. However, it can only be used once per battle as it significantly drains the extra battery energy compared to its typical energy consumption.
In the game version of Danball Senki W, all the modes are stored in their corresponding support chips, and can be activated through any LBX model.
The only LBXs confirmed to enable this ability are: Achilles, Judge, Odin, Zenon, Lucifer, Ifreet, Achilles Deed, Odin MK2, Achilles D9, Elysion, Minerva, Perseus and Zeus.
Gallery
Trivia
Achilles is the first protagonist LBX to have two special mode, when the V-Mode evolves into the Advanced V-Mode, thanks to Yuusuke's help.
Zeus is the first antagonist LBX two have 2 special modes, only the Destroy mode is performed when combined with Killer Droid: Pegasus.
Ad blocker interference detected!
Wikia is a free-to-use site that makes money from advertising. We have a modified experience for viewers using ad blockers

Wikia is not accessible if you've made further modifications. Remove the custom ad blocker rule(s) and the page will load as expected.