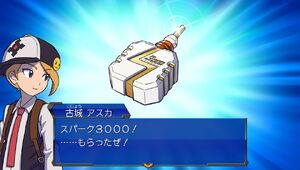 '
Spark 3000'
(

スパーク3000

Supaaku Sanzen

)
is a high efficiency motor developed by
Crystar Ingram
 in 
Danball Senki W (PSP)
. It is born from the latest LBX engineering breakthroughs. The Spark 3000 was the winning prize of the 2051 Artemis World Championship. It is currently in possesion with 
Asuka Kojou
, the 4th Artemis Champion.
Trivia
It can be defaulty obtained through Asuka's Vampire Cat's parts setting through the game's storyline.
In the game, it was considered a battery and not a motor, thus can be obtained again as a drop item after battling Pinon in the Ranking Battle.
Ad blocker interference detected!
Wikia is a free-to-use site that makes money from advertising. We have a modified experience for viewers using ad blockers

Wikia is not accessible if you've made further modifications. Remove the custom ad blocker rule(s) and the page will load as expected.