Ad blocker interference detected!
Wikia is a free-to-use site that makes money from advertising. We have a modified experience for viewers using ad blockers

Wikia is not accessible if you've made further modifications. Remove the custom ad blocker rule(s) and the page will load as expected.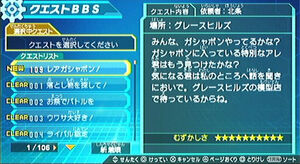 Apart from the games' main story line, you can take
Side-Quests
(クエストBBS) to receive rare rewards. It can be selected by going to the CCM Menu and selecting a quest of choice. Each quest is also graded by difficulty level. Canceling a quest will revert everything back before the quest started.
In Danball Senki W (PSP), all side-quest can be performed real-time after reading in-game chatboard in the Seeker Board (シーカーボード). Replying the right answers toward the conversations will activate the quest.
Danball Senki (PSP) to Baku BOOST
Chapter 2
No.
Quest Title
Difficulty
Reward
Unlock
001
3
7500c
Chapter 2
002
2
3000c
Chapter 2
at Misoratown Station before going to Parade Street
003
2
Pocket tissue
Battle Lance
004
2
Shiny Medal
005
2
2200c
006
1
Spike Lance
007
2
2800c
008
1
Toy Medal
009
2
Iron Dagger
010
3
4000c
011
3
3 Toy Medal's
012
2
6000c
Chapter 3
No.
Quest Title
Difficulty
Reward
Unlock
013
3
12500 c
Chapter 3
after Angel Star
014
3
Impact Knuckle
015
3
9600 c
016
3
Common Medal
017
2
7200 c
Chapter 3
after Angel Star
Complete Quest 012
018
2
2200 c
Chapter 3
after Angel Star
Chapter 4
No.
Quest Title
Difficulty
Reward
Unlock
019
2
3000 c
Chapter 4
on the day of Angra Visdas
020
2
Great Axe
Perforated soccer ball
021
4
10000 c
022
2
4000 c
023
2
4800 c
Chapter 4
on the day of Angra Visdas
Clear Quest 004
Chapter 5
No.
Quest Title
Difficulty
Reward
Unlock
024
4
X Blade
Chapter 5
on the day of the infiltration of Kaidou's House
025
4
18000 c
026
1
3000 c
027
4
LBX Card No.16 Achilles
028
3
LBX Card No.17 Deqoo Kai
029
3
LBX Card No.18 Hunter C
030
2
Counter Attack
Chapter 5
on the day of the infiltration of Kaidou's House
Clear Quest 017
Chapter 6
No.
Quest Title
Difficulty
Reward
Unlock
031
4
LBX Card No.19 Deqoo Kai C
Chapter 6
032
2
5200 Credits
033
5
LBX Card No.20 Queen C
After the events in Artemis
034
5
12800 c
After the events in the Slums
035
4
LBX Card No.21 Deqoo Kai
Chapter 6
Clear Quest 013
036
2
LBX Card No.22 Zuul C
Union Medal
Chapter 6
Clear Quest 030
Chapter 8
| No. | Quest Title | Difficulty | Reward | Unlock |
| --- | --- | --- | --- | --- |
| 037 | | 4 | LBX Card No.41 Gladiator | Clear Quest 025 |
| 038 | | 4 | LBX Card No.42 Hakai-O C | |
| 039 | | 5 | LBX Card No.43 Musha C | |
| 040 | | 4 | Fighter Spirit | Clear Quest 015 |
| 041 | | 4 | Hedgehog flare | Clear Quest 023 |
| 042 | | 4 | 10500 c | Clear Quest 027 |
| 043 | | 6 | LBX Card No.44 Warrior C | |
| 044 | | 3 | LBX Card No.39 Nazuu | |
Chapter 9
No.
Quest Title
Difficulty
Reward
Unlock
045
6
LBX Card No.61 Masquerade J
Union Medal
046
4
LBX Card No.62 Grey Maid
047
5
13500c
048
4
LBX Card No. 38 Queen
049
1
Soccer ball
Shiny Medal
Clear Quest 020
Clear Quest 051
050
2
LBX Card No.64 Kunoichi C
051
1
Super-soft adhesive
Clear Quest 003
Chapter 10
No.
Quest Title
Difficulty
Reward
Unlock
052
6
88000c
053
7
LBX Card No.65 Ortega C
Happiness Medal
054
3
8000c
055
3
LBX Card No.66 Emperor C
056
5
12000c
Clear Quest 020
Clear Quest 051
057
3
7700c
Clear Quest 009
058
7
LBX Card No.67 Buld Kai C
9900c
059
6
LBX Card No.67 Mad Dog
Memorial Medal
Clear Quest 003
Chapter 11
No.
Quest Title
Difficulty
Reward
Unlock
060
6
110000c
061
5
LBX Card No. 83 Joker
062
4
21000c
063
4
LBX Card No.86 Fenrir
064
3
35000c
Clear Quest 020
Clear Quest 051
065
3
LBX Card No.84 Anubis
Chapter 12
No.
Quest Title
Difficulty
Reward
Unlock
066
4
LBX Card No.85 Hunter
Clear Quest 022
067
7
LBX Card No.87 Pandora
Clear Quest 055
068
3
LBX Card No.88 G.Rex
Strike Shield
069
3
8000c
070
8
LBX Card No.89 Masquerade J C
Dream Medal
After Clearing the Story
No.
Quest Title
Difficulty
Reward
Unlock
071
3
10000c
072
4
LBX Card No.63 Master Command
073
6
99000c
074
6
LBX Card No.109 Odin C
075
2
LBX Card No.110 Kaiser C
076
9
LBX Card No.111 Lucifer C
077
3
LBX Card No.112 Hakai-O Z C
078
6
LBX Card No.135 Inbit
079
5
LBX Card No.134 Deqoo Ace
080
6
LBX Card No.132 Ortega
081
6
LBX Card No.133 Titan
082
5
LBX Card No.206 Hakai-O Z
083
6
70000c
084
6
LBX Card No.159 Red Ribbon
085
8
LBX Card No.183 Apollo Kaiser
086
8
LBX Card No.181 Proto Zenon
Shooting Star
087
8
LBX Card No. 156 G.Rex
088
7
LBX Card No.207 Green Ribbon
089
6
LBX Card No.205 Sakura ☆0
090
6
14500c
091
7
20000c
092
5
41100c
093
5
13000c
094
1

Common Medal Mischief Adhesive

095
3
LBX Card No.157 Warrior
096
3
LBX Card No.158 Amazones
097
3
8000c
098
1
Paper Craft
099
3
LBX Card No.204 Deqoo
100
5
LBX Card No.180 Blue Ribbon
BOOST exclusive quests
No.
Quest Title
Difficulty
Reward
Unlock
101
1
Ryuu as a Team Member
Clear the Story
102
2
Mika as a Team Member
103
3
Riko as a Team Member
104
4
Kousuke as a Team Member
105
5
Master King as a Team Member
Shinsoku Ken
106
6
Ota Red as a Team Member
107
7
Mano as a Team Member
108
8
Yagami as a Team Member
109
9
Saki as a Team Member
110
10
Takuya as a Team Member
111
5
Whirlwind Slash

10000c

Chapter 5
112
8
Chapter 12
113
5
Chapter 5
114
8
Chapter 12
115
7
Chapter 11
before the infiltration of the Factory
116
8
Chapter 12
117
5
Chapter 5
118
8
Chapter 12
119
6
Chapter 6
120
8
Chapter 12
121
7
Chapter 11
before the infiltration of the Factory
122
9
Clear the Story
Danball Senki W (PSP, PS Vita)
Notes