Ran Hanasaki
Comments

8
2,058pages on
this wiki

Hanasaki Ran (花咲ラン, Hanasaki Ran?) is one of the new protagonists introduced in Danball Senki W.
Personality
Ran is a strong and brave karate fighter which is following her grandfather's style and principle. As an LBX player, she tends to get hyperactive towards LBX battles which is reflected through her fighting skills.
Plot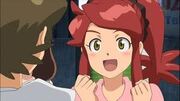 Ran first debuted after winning a karate championship, and receiving the LBX
Minerva
as a prize planted by Yamano Junichiro. She and her friend gets ambushed by
Achilles Deed
and an army of Detector LBXs. Then she meets Hiro and starting to like him. Ran, with the help of
Ban
and
Hiro
, defeated them together. After the battle,
Cobra
explained that s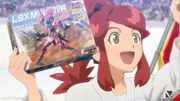 he, like Hiro, has been chosen to fight the Detectors. Upon arriving to N City, they met
Jessica Kaios
,
Jin Kaidou
and
Yuuya Haibara
who aided their future battles at NICS headquarters.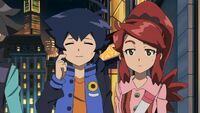 Ran, Hiro and Ban investigate N city and Shang Pao using the new Denpa, electromagnetic waves, meter to search Detectors computer. She lost to Ami Kawamura in Shang Pao when trying to reach the main computer.
In the Angre Texas, Ran was trained by Yuuya but she didn't listen to his advice by thinking first before acting. She also said that he's troublesome and she likes her way of fighting.
Trivia
She loves to end her sentence with "osu!" a word karate fighter always use after fights.
Her way of fighting is head on meaning by power and does not take it slowly saying "that it's too troublesome"
Her given name, Ran, in kanji (蘭) means Orchid.