Operation Seize Oasis 3 (オアシス3攻略作戦, Operation Seize Oasis 3) is one of the operations set up during War Time in Second World in Danball Senki Wars.
Mission Debriefing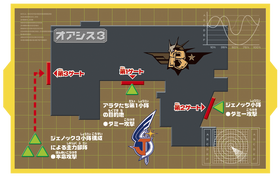 "Today's mission target is to attack Rossius' strategic base, Oasis 3. Our troops will aim for the base's 3 entrances and charge in simultaneously. However, the attacks on the 1st and 2nd gate are the diversions, while the platoon attack on the 3rd gate will be our priority."
Plot
Haruki Izumo commands the newcomers Arata Sena and Hikaru Hoshihara in their first operations, and their first time being in the First Platoon. Though due to being new, they did not listen to Haruki and still thought of this as being a 'tournament' in which Arata and Hikaru fought on their own. Haruki demanded both of them listen, and this isn't a tournament, which ended up in Arata damaging his DC Offenser's hands, while Hikaru kept on attacking on his own, still treating everything like a tournament.
Aftermath
In the end, since their main goal was just to distract the Rossius nation from the main gate (3rd gate) to their position (which is the 1st gate), they succeded and captured Oasis 3.
Ad blocker interference detected!
Wikia is a free-to-use site that makes money from advertising. We have a modified experience for viewers using ad blockers

Wikia is not accessible if you've made further modifications. Remove the custom ad blocker rule(s) and the page will load as expected.