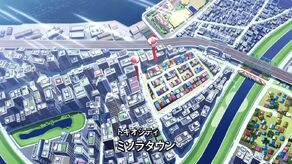 '
Misora Town'
(

ミソラタウン

Misora Taun

)
, known as Pacifica in the English dub, is located in Tokio, Japan; the primary background location of all the Danball Senki events. It is the local district neighborhood where
Ban Yamano
and his friends, students and supporters live.
List of Locations
Misora Shopping District: The local shopping district in Misora Town. The shopping district can be seen very often when Ban and friends go to Blue Cats Coffee.
Misora 2nd Middle School: Ban and friends' school.
Kitajima Model Shop: Owned and operated by Kojirou Kitajima and his wife Saki Kitajima, the Kitajima Model Shop is a place where most kids buy their LBXs and custom parts. A place where Ban and his friends regularly hang out and to battle.
Blue Cats Coffee: Owned by Ren Hiyama, it served as one of the Seeker's hidden, unformal base of operations. It is also where the Angra Visdas underground tournament is held.
Kasegawa Bridge: On the way to and from home, the Kasegawa Bridge can be seen in numerous episodes. It also was where Ban was first handed the suitcase containing AX-00.
Trivia
References