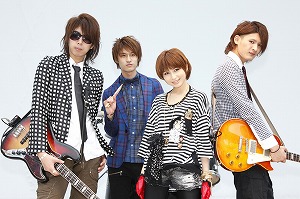 Little Blue boX (リトル・ブルー・ボックス) is a Japanese rock band who perform the theme songs for the Danball Senki games and the TV animation opening themes.
Current Members
hie <Hisayo Inamori> (Lead Vocalist)
yui (Guitarist)
Former Members
Sou (Guitarist)
Youhei (Base Guitarist)
Yuusuke (Drummer)
Trivia
The rock band name 'Little Blue boX': stands for LBX (the central point of the series) when taking out the capital letters.
Little Blue boX is the equivalent to T-Pistonz+KMC, the J-pop band who perform the theme songs for the Inazuma Eleven franchise.
External Links
Ad blocker interference detected!
Wikia is a free-to-use site that makes money from advertising. We have a modified experience for viewers using ad blockers

Wikia is not accessible if you've made further modifications. Remove the custom ad blocker rule(s) and the page will load as expected.