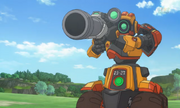 The
Launcher (ランチャー)
Style focuses on homing-projectiles to blast down enemy LBXs with launcher-type weapons, techniques and list of ATK functions.
Characteristics
Using Bazookas and Rocket Launchers equipped with homing missiles
Techniques
Attack Functions (Normal to Baku BOOST)
Attack Functions (W)
Combo Tips
With the best launcher CPU you can do nearly about ten charged shots with launchers, which shot four shots as a charged shot, so your chance to hit the enemy grows a lot.
Also, Launchers and Sniper rifles are the best weapons against Killer Droids, especially against Minotaur.
Ad blocker interference detected!
Wikia is a free-to-use site that makes money from advertising. We have a modified experience for viewers using ad blockers

Wikia is not accessible if you've made further modifications. Remove the custom ad blocker rule(s) and the page will load as expected.