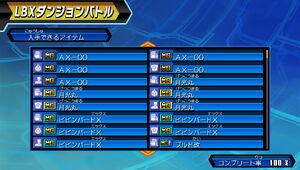 The LBX Dungeon Battle (LBXダンジョンバトル, LBX Danjyonn Batoru) is a new mini-game exclusively featured in Danball Senki W (PSP).
Rules
Defeat all the opponent LBXs within the time limit to clear the stage.
The accumulated points for each defeated determine the reward at the end result.
The statuses of your party will not recover per battle until clearing the stage.
If one of your party LBXs reach break-over, they remain unusable until clearing the stage.
Notes
Tips & Tricks
Ad blocker interference detected!
Wikia is a free-to-use site that makes money from advertising. We have a modified experience for viewers using ad blockers

Wikia is not accessible if you've made further modifications. Remove the custom ad blocker rule(s) and the page will load as expected.