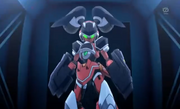 The
Knuckle (ナックル)
style focuses on the melee style of using fist combos with weapons, techniques and list of ATK functions.
Characteristics
One knuckle weapon set would fill both hand slots.
A sense of using this style follows as "Attack is the greatest defense".
Easy to use for beginner to experts players.
3 types: Knuckle gauntlets, Kunai Daggers and bare fists.
Knuckle gauntlets and bare fists are  Shock Attributes
Kunai Daggers are Slash Attributes
Attack Functions (Normal to Baku BOOST)
Attack Functions (W)
Ad blocker interference detected!
Wikia is a free-to-use site that makes money from advertising. We have a modified experience for viewers using ad blockers

Wikia is not accessible if you've made further modifications. Remove the custom ad blocker rule(s) and the page will load as expected.