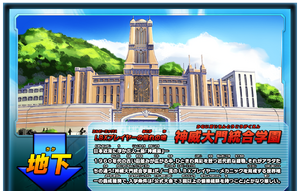 Kamui Daimon Comprehensive Academy
(

神威大門統合学園

)
is a school for elite LBX players and mechanics. It serves as the central background setting of
Danball Senki Wars
series.
Profile
Official Site
"The land every LBX player aspires for, Kamui Daimon Comprehensive Academy!"
"Off the shores of Japan lies a manmade island called Kamui Island…
In contrast with the old, circa 1960s cityscape that surrounds it, stands a single conspicuously modern building. That building is the school that Arata attends, Kamui Daimon International School! It's the only training facility in the world for the greatest LBX players and mechanics. Admissions requirements are strict, and students must place first in at least three official tournaments before attending."
Academy System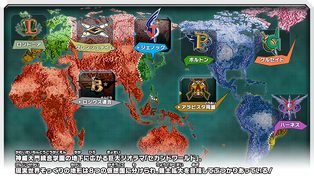 The school follows normal curriculum through classes and club activities, but it also accords to a mandatory session after school system that all students attends the "
Wartime
" in the
Second World
. Each student is provided with the school's CCM, LBX models, and an assigned uniform color code for each '
Virtual Country'
(

仮想国

Kasoukoku

)
they represent.
Originally there were 30 countries, now there 8 countries with some allied prior to the beginning of the story. With the addition of the newly formed country, Ezeldarm, there are now a total of nine countries.
Virtual Country

Jacket Color

Representing Country(ies)
Jenock
ジェノック
Navy Blue
Japan
Rossius Union
ロシウス連合
Grey
Most of Africa, Austrailia, Russia, China, Phillipines
Arabista Alliance
アラビスタ同盟
Khaki
North and South America
Harness
ハーネス
Purple
Small Eastern Brazil
Londonia
ロンドニア
Green
Western Europe
Glenschteim
グレンシュテイム
White
Eastern Europe
Porton
ポルトン
Lime
Hawaii
Crusade
クルセイド
Orange
Greenland
Ezeldarm
エゼルダーム
Black
Part of Africa
Faculty
Ad blocker interference detected!
Wikia is a free-to-use site that makes money from advertising. We have a modified experience for viewers using ad blockers

Wikia is not accessible if you've made further modifications. Remove the custom ad blocker rule(s) and the page will load as expected.