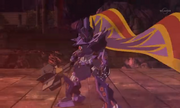 The
Hammer (ハンマー)
Style focuses on large heavyweight axes and hammers to smash down enemies with hammer-type weapons, techniques and list of ATK functions.
Characteristics
One weapon would fill both slot in a weapon set (requiring both hands = unable to equip a shield).
3 types: Hammers, Axes and Sycthes
As a heavyweight weapon, it has a greater chance of dealing a guard break towards the toughest enemies with a single hit. When charged, it deals a greater impact to 1 or more enemies around the target zone.
The attack power of an attack function gets increased.
Disadvantages contain: unable to performa double jump, chances of refilling the Chance Gauge are slim with less enemies.
Unless customized to match the corresponding weapon speed rank, the weapon's heaviness will slow you down.
Attack Functions (Normal to Baku BOOST)
Attack Functions (W)
Ad blocker interference detected!
Wikia is a free-to-use site that makes money from advertising. We have a modified experience for viewers using ad blockers

Wikia is not accessible if you've made further modifications. Remove the custom ad blocker rule(s) and the page will load as expected.