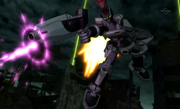 The
Gun (片手銃)
Style focuses on using guns to shoot at enemy LBXs with gun weapons, techniques and list of ATK functions.
Characteristics
With the debut of Danball Senki BOOST, a new style called the twin-pistol style (二丁拳銃) is introduced wielding two guns for rapid shooting than normal.
Techniques
Information will be added soon.
Attack Functions (Normal to Baku BOOST)
Attack Functions (W)
Ad blocker interference detected!
Wikia is a free-to-use site that makes money from advertising. We have a modified experience for viewers using ad blockers

Wikia is not accessible if you've made further modifications. Remove the custom ad blocker rule(s) and the page will load as expected.