Great Future War!

Romanji:
Guretto Fyuchaa Uwaa
Information
Release
May 4th, 2011
Serial Number
AVCD-48043 (CD)
AVCD-48042/B(CD+DVD)
Lyrics
Kyasu Morizuki
Peformer(s)
Little Blue boX
Composer(s)
Hiroyuki Maezawa
Arrangement
Masaki Iehara
Song Guide
Previous
None
Next
Fighting Pose
Great Future War is the opening game theme of the Danball Senki game.
Lyrics
あきらめの悪いとこだって僕らの取り柄さ
迷わずこの作戦で攻めろ

大声張り上げ涙流すのは
みんなで勝利した瞬間(とき)まで待って

同じ夢を見たなら
誰もが今日からライバルさ

僕だけのオリジナル 勇気のパズル
小さなピース重ねて描く
僕たちの偉大なる未来のバトル
もうこれは遊びなんかじゃない
手加減はしないぜ

強気を装ってかましたハッタリも上等じゃん
デタラメ皆真実に変えろ

限界超えたって満足するなよ
いきがって史上最強めざして

ただ一つのルールは
僕らしく生きるプライドさ

魂が熱くなる過酷なレース
小さなパーツ一つが重要(かなめ)
人生は遥かなる手強いゲーム
もうマジになるしかないだろ
逃げる場所はないぜ

夢たちのターミナル 飛び立つシャトル
小さなツバサ広げ羽ばたく
僕たちの偉大なる未来のバトル
もうこれは遊びなんかじゃない
終わらない戦い
akirame no warui toko datte bokura no torie sa
mayowazu kono sakusen de semero

oogoe hariage namida nagasu no wa
minna de shouri shita toki made matte

onaji yume wo mita nara
dare mo ga kyou kara RAIBARU sa

boku dake no ORIJINARU yuuki no PAZURU
chiisana PIISU kasanete kaku
bokutachi no idai naru mirai no BATORU
mou kore wa asobi nanka ja nai
tekagen wa shinai ze

tsuyoki wo yosotte kamashita HATTARI mo joutou jan
DETARAME mina shinjitsu ni kaeru

genkai koetatte manzoku suru na yo
ikigatte shijou saikyou mezashite

tada hitotsu no RUURU wa
boku rashiku ikiru PURAIDO sa

tamashii ga atsukunaru kakoku na REESU
chiisana PAATSU hitotsu ga kaname
jinsei wa harukanaru tegowai GEEMU
mou MAJI ni naru shika nai daro
nigeru basho wa nai ze

yume tachi no TAAMINARU tobitatsu SHATORU
chiisana TSUBASA hiroge habataku
bokutachi no idai naru mirai no BATORU
mou kore wa asobi nanka ja nai
owaranai tatakai
Being bad at giving is our merit
We're gonna attack with this strategy without hesitation

Letting out a loud voice and tears
At the very moment we all obtained victory

As long as we share the same dream
Regardless of who they are, they're our rivals from today

This is my own original puzzle of bravery
These small pieces build up upon each other
This is our great future war
It's not just a game anymore
I won't hold back

Putting on a tough face and bluffing is fine with me
Turn all those false pretenses into reality

Don't be satisfied with just overcoming your limits
Be stylish and aim to be the strongest in history

Our one single rule
Is my pride to live like myself

This cruel race that fires up our souls
A single small part is the keystone
Life is a long, tough game
We've got no choice but to get serious about it
There's nowhere to run

This shuttle is heading out the terminal of dreams
Spread out these small wings and fly
This is our great future war
It's not just a game anymore
It's our neverending fight
Trivia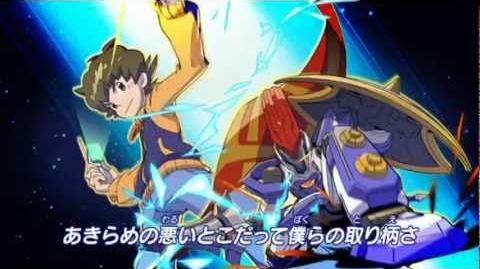 Ad blocker interference detected!
Wikia is a free-to-use site that makes money from advertising. We have a modified experience for viewers using ad blockers

Wikia is not accessible if you've made further modifications. Remove the custom ad blocker rule(s) and the page will load as expected.