The Devil In The Skies (空飛ぶ悪魔, The Devil In The Skies)is the forty-fifth episode of Danball Senki W anime adaptation.It aired on 5th December 2012.
Major Events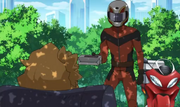 Kirito reveals that Takuya offer him to become Tiny Orbit's test player and is given Fenrir as a gift.
Eclipse transforms into a giant robot, the Mizel-Trouzer.
Debut
Character
Attack Function/Special Mode Used
Attack Function
Special Mode
Ad blocker interference detected!
Wikia is a free-to-use site that makes money from advertising. We have a modified experience for viewers using ad blockers

Wikia is not accessible if you've made further modifications. Remove the custom ad blocker rule(s) and the page will load as expected.