Reunion at the Dragon Tower (ドラゴンタワーの再会, Reunion at the Dragon Tower) is the seventh episode of Danball Senki W anime. It was aired on 29 February, 2012.
Major Events
Otacross introduced the Riding Saucer.
Ran battle against Ami. The battle ended with Ami's victory.
Debut
LBXs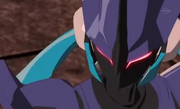 Attack Function Used
Ad blocker interference detected!
Wikia is a free-to-use site that makes money from advertising. We have a modified experience for viewers using ad blockers

Wikia is not accessible if you've made further modifications. Remove the custom ad blocker rule(s) and the page will load as expected.