Eiji Yagami

Media Info
Japanese
八神 英二
Translation
Yagami Eiji
Dub Name
Devin Aeron
Game Debut
Danball Senki (PSP)
Anime Debut
Episode 01
Appears in
Game, Anime
Voice Actor
Takanori Hoshino
Personal Info
Gender
Male
Status
Active
Relatives
Keiko Yagami (deceased wife)
Yuki Yagami (deceased daughter)
Occupation
Policeman (former)
Black Unit Commander (defected)
Eclipse Commander
Prime Minister's Personal Intelligence
Affiliation(s)
Innovator (defected)
Seeker
Japanese Government
LBX:
General
Eiji Yagami (八神 英二, Eiji Yagami) was the commander of the Black Intelligence division of the Innovators, and reformed into one of Ban's support character in the Danball Senki series.
Appearance
Eiji has amber eyes and long, auburn hair. He has a commanding stature, and he is always seen wearing formal business attire with a red tie and a cape. Before his wife and daughter passed away, he had shorter hair.
Background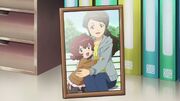 Once a happy working police officer with a wife and daughter,
Eiji Yagami
's life changed when his family died in the
Tokio Bridge Collapse Incident
. Very upset and confused by the event, he was approached by
Yoshimitsu Kaidou
who was visiting the deceased victims' families. Seeing usefulness within him, Kaidou offers him a job under the false pretenses of helping to prevent such an event from ever occuring again.
Plot
Later on, however, Eiji learns of Yoshimitsu's true objectives, so he decides to defect and join the Seeker 's cause to foil Yoshimitsu Kaidou's plans and to gain redemption.
During his final day at the Innovator base, he is immediately targeted by security after "Kaidou' and Sadamatsu agree that his information gathering equals betraying the Innovators.
After the events with the Innovator incident, he turns himself in only to be scouted by Prime Minister Sousuke Zaizen to be his personal intelligence as a plea-bargain for his investigation skills.
He reappears in Wars episode 34 with former president Sousuke Zaizen, conversing about his investigation report regarding the the Second World Committee on Jin Kaidou's behalf.
Ad blocker interference detected!
Wikia is a free-to-use site that makes money from advertising. We have a modified experience for viewers using ad blockers

Wikia is not accessible if you've made further modifications. Remove the custom ad blocker rule(s) and the page will load as expected.