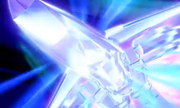 EX Attack Functions (固有必殺ファンクション, Koyuu Hissatsu Fankushon) are signature attack functions standardized to a complete LBX set. It will be inaccessible to equip unless all parts of the same set are assembled.
List of Attack Functions
LBX Model
NAME
Type
ATK
Element
Range
Chance
Evade Method
Odin
O-Legion
K-Arthur
Jet Striker
(JETストライカー)
260
Middle
5
None
Queen series
Grace Missile
(グレイスミサイル)
190
Middle
3
None
Hakai-O series
O-Legion
Gao Cannon
(我王砲)
185
Middle
3
None
Hakai-O Z
Hakai-O Dogma
Chou Gao Cannon
(超我王砲)
270
Middle
5
None
Hunter
Hunter 2
Fenrir
Stinger Missile
(スティンガーミサイル)
196
Long
2
Move
Lucifer
Shadow Lucifer
equip with
Devil Sword
(デビルソード)
220
Close
3
Jump
Lucifer
Seraphic Wing
(セラフィックウイング)
265
Middle
5
None
Equip with
Gigant Axe
Jet Hammer
(ジェットハンマー)
170
Close
2
Step
Zeus
God Nemesis
(GODネメシス)
310
Long
5
None
Ifreet
Varsodas
(ヴァルソダース)

400
Close
3
Move
Ifreet
Prominence Raid
(プロミネンスレイド)
640
Long
5
None
Jeanne D series
Side Winder-8
(サイドワインダー8)
223
Close
3
None

Ikaros Force series with Ikaros Zero series

00 Sword
(00ソード)
311
Middle
5
None

Ikaros Zero series with Ikaros Force series

Meteor Breaker
(メテオブレイカー)
315
Middle
5
None
Achilles D9
and Odin MK2
Double Ray Wing
(ダブルレイウィング)
316
Long
5
None
Σ Orbis
Sigma Drive Sword
(Σドライブソード)
261
Long
4
None
Customize with
Sword Bit parts
Sword Bit
(ソードビット)
Lv
Move
Customize with
Reflect Bit parts
Reflect Bit
(リフレクトビット)
Self
2
Customize with
Bit Laser parts
Bit Laser
(ビットレーザー)
Move
Customize with
Bit Bomb parts
Bit Bomb
(ビットボム)
Move
Customize with
Riding Saucer
D part
Riding Saucer Dive
(ライディングソーサ D)
264
Long
4
Wars Additions
Trivia
The functions that are pre-equipped with the armor frame such as Stinger Missile, are considered normal attack functions.
In Danball Senki W (PSP), the functions are set in seperate torso parts instead of the full set.
Ad blocker interference detected!
Wikia is a free-to-use site that makes money from advertising. We have a modified experience for viewers using ad blockers

Wikia is not accessible if you've made further modifications. Remove the custom ad blocker rule(s) and the page will load as expected.