Chou Plasma Burst

Media Info
Japanese:
超プラズマバースト
Translation:
Chou Purazuma Bāsuto
Dub name:
Vorpal Vortex
Game debut:
Danball Senki (PSP)
Anime debut:
Episode 18 (Off-screen)
Episode 21 (Debut)
Statistics
Type:
Attack power:
225
Range:
Long
Elements:
Pierce, Thunder
Chance guage:
4
Attained:
Chapter 6 Event
Skill Level 11
'Chou Plasma Burst' (超プラズマバースト, Chou Plasma Burst) is a lance-type finishing attack function introduced in the Danball Senki series.
Description
A lance-type finishing attack function where the user LBX rotates its hands together with its lance. Then it brings its arm up, and a orange colored energy bursts out creating a spiral pattern ball of energy. Then the user LBX jumps into the air and dive to the opponent LBX.
Users
Danball Senki Wars
Chronology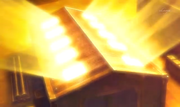 It was first used by Achilles in Episode 18 and defeated Lex's Kabuto during Ban's training for the upcoming Artemis tournament.
In Episode 21, Achilles used Super Plasma Burst and defeated Keita's Warrior.
It was used again by Achilles in the final stage of Artemis 2050 and managed to damage Jin's Emperor M2 after the jumping portion of the routine dodged Impact Kaiser.
In Episode 44, Odin managed to use it to defeat Ren's Ifreet along with his other attack function inherited from Ban's predecessor model.
Function Sequence
Ad blocker interference detected!
Wikia is a free-to-use site that makes money from advertising. We have a modified experience for viewers using ad blockers

Wikia is not accessible if you've made further modifications. Remove the custom ad blocker rule(s) and the page will load as expected.