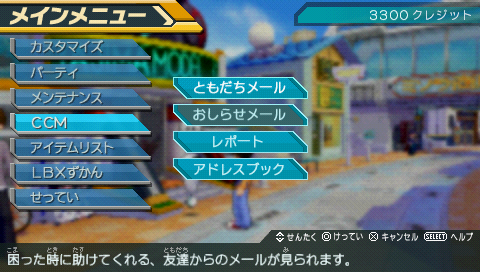 The CCM Menu (CCMメニユー) is the mailbox menu where you check upcoming mail in events, recording all reports and receiver addresses.
Center
Friend's E-mail (ともだちメール): Headline News that informs you about new products
Notification E-mail (おしらせメール): Random E-mail that pops up after events.
Report (レポート): A terminology list of all controls and important terms that happen throughout the game.
Address Book (アドレスブック): A List of all the character names by event encounter in the game.
Ad blocker interference detected!
Wikia is a free-to-use site that makes money from advertising. We have a modified experience for viewers using ad blockers

Wikia is not accessible if you've made further modifications. Remove the custom ad blocker rule(s) and the page will load as expected.