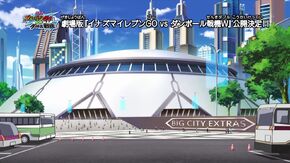 The '
BC Extras'
(

BCエクストラズ,

Biggu Shiti Ekusutrazu

)
is one of
Nation-A
's official LBX tournaments and cosplaying contest. It is an anime-original event that appears in the Danball Senki anime filling between the events of Brinton and Camberlin in the
game's
timeline.
Tournament Rules
All participants are to attend in tag teams.
All participants must wear their own costumes
LBX Customization and change of costume is admitted anytime during the tournament.
Costumes weared during battle are graded by audience reception. Automatic disqualification will occur if the audience grades the cosplay as bad.
2051 Participants
Earth Defense Team
Twilight Dragon Knights Team
Team Double Rose
Stealthy Alpha Team
Magical Sister Brothers
​Trivia
The grand prize for the winning team is the core memory,the Meister X3, plus an order-made, super high-quality cosplay set for two.
The Tournament makes a debut in the official game as part of one of the quests obtained after clearing the Mizel Chapter.
Ad blocker interference detected!
Wikia is a free-to-use site that makes money from advertising. We have a modified experience for viewers using ad blockers

Wikia is not accessible if you've made further modifications. Remove the custom ad blocker rule(s) and the page will load as expected.