Ami Kawamura

Media Info
Japanese
川村 アミ
Translation
Kawamura Ami
Dub Name
Amy Cohen
Game Debut
Danball Senki (PSP)
Anime Debut
Episode 01
Appears in
Game, Anime, Manga
Voice Actor
Marina Inoue
Personal Info
Age
13 (debut), 14 (W)
Gender
Female
Status
Alive
Relatives
Unknown parents
Occupation
Student, LBX Player
Affiliation(s)
Seeker, NICS
LBX:
Kunoichi, Pandora,
Dark Pandora (under Detector),
Oni Kunoichi under Detector)
Achievement(s)
Angra Visdas Best 8, 2050 Artemis Participant (Ban's Team)

2050 Akihabara Kingdom Runner-Up (Jin's Team)
Ami Kawamura (川村 アミ, Ami Kawamura) is one of the main protagonists of Danball Senki and one of the main supporting characters in Danball Senki W.
Appearance
Ami has short, lavender hair and dark, violet eyes. In original series she usually wears a pale pink winter-like sweater with two white pom-poms, pink short skirt, white long socks reaching over her knees, black Mary Jane shoes and earmuffs.
In W, her hair is a bit longer and puffier. She wears a pale pink sweater with white fluff and three pom-pom like buttons, dark pink shorts with light pink ribbons, one on each pant leg, black knee-length socks, brown boots and her earmuffs.
In the Wars sketches, she is seen wearing short, brown sweater-like dress with two white pom-poms, long black socks and black shoes with high heels. She also has earmuffs but slightly different.
Personality
Ami is shown to be a very nice person who is knowledgeable about LBX. However, she is also protective of her companions and does not seem to tolerate rudeness or unfairness so she gets very sassy as she did towards the America team John and Paul who were rude Ban during the Artemis 2050 preliminaries. It also seems that her favourite colour is pink.
Plot
Danball Senki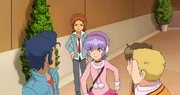 In Episode 1, Ami is shown to be close friends with
Ban Yamano
and
Kazuya Aoshima
, and first seen when the three were playing LBX together as a team in a small tournament. After they won, she noticed that
Jin Kaidou
was watching, and called him the best and most popular LBX player. This part of the episode actually takes place in the future, in
episode 20
.
In episode 6, Ami and Ban find Jackal's LBX Assassin on a rooftop. She has Kunoichi fight him since a sniper would be weak at close range combat. To her surprise, Assassin uses a sword and cut downs Kunoichi. Before Jackal can attack her LBX, Ban jumps in and injures Assassin, With Jackal choosing to self destruct Assassin, Achilles carries Kunoichi bridal style to save her from the explosion. At the end of the episode, Ami laments with the others that the situation could have been dire had they not stepped in to help.
In episode 12, Angra Visdas starts. Before Ban's battle, Ami takes note that Gatoh's LBX fighting style might be the same as Ryuu's but the trio realizes from Hanzou's notes that Gatoh is the reckless and dangerous type. She suggests to Ban that he should use a launcher type weapon since Achilles's Sigma DX9 should allow it to dodge the opponents attack. However, Ban starts thinking even harder about the situation, but she's still concerned for him although Ban and Kazu wish him luck when Block A begins. After Ban's victory over Gatou,
she and Kazu get ready for their next matches….only to be less than pleased with their opponents. Ami has a suave-man that also has a Kunoichi named Catherine, even saying "I can't forgive this guy for using Kunoichi". Ryuu confirms that the other Kunoichi has a Maxim T500 that allows for linear speed but not much for small rotations while Ami's LBX has a L Feather 4 which boosts those small rotations. Because of this, Ami is able to eventually outpace her opponent, leaving him wide open for her to unleash her Attack Function: Tsumujikaze. As a result, Ami makes it to the quarterfinals alongside Kazu, Ami, and Jin. After the quarterfinals begin, she watches Kazu and Daiki advance to the semifinals, and since Ban's opponents in the second round eliminated each other, she notes that he'll automatically advance.
In episode 18, Ban questions himself at Gouda's hangout about winning Artemis. She shows up alongside Kazu, and jokingly states that Ben wouldn't have gotten as far as he did without her and Kazu, but "mostly her". However, she also reminds Ban that it is their dream to win Artemis and they will. At the tournament stadium, she sees Ryuu, Kinji, and Tetsuo with a banner rooting for Ami to win. At first she ignores their advancements and support until Riko tells her that they spent all night working to cheer her on. She smiles and accepts it. Later that day, her, alongside Ban and Kazu notice Yuuya Haibara and Jin at the entrance.
In episode 20, Ami calls out Team John and Paul for being rude to Ban and claims that they're bluffing their strength to provoke them. After Keita breaks up the fight, Ami befriends Keita's teammate Reina and the two compare their Kunoichi's. While not participating in the two on two match, she helped Ban and Kazu with a strategy to defeat John and Paul which succeeded. She also fights with Kazu and Ban in some of the C Block battles before they reach the finals. At the start of Team Ban vs Team Morigani, Ami and Ban use Achilles and Kunoichi to block Kazu's Hunter from the other team's trap at the cost of her Kunoichi's arm. In episode 21, Ami and Kazu lead Team Morigani in a reverse trap which leads to Kinoshita Kouji being eliminated. She focuses on fighting Reina in a one on one battle with their Kunoichis. This continue until Reina leaves to fight Kazu, so she and Kunoichi assist Ban and Achilles to tag team Keita and his Trooper. Once Reika is eliminated, she joins the trio on fighting Keita three on one, but Keita has Trooper use Trident to eliminate her and Kazu's LBX. She and Kazu rejoice when Ban wins, happy that they've made it to the final stage of the tournament as Artemis Finalists.
In episode 26 and 27, she discovers during the trip to Tiny Orbit that Pandora is owned by Yusuke Uzaki. In another battle against Inbits that infiltrated Tiny Orbit, Ami and Kazu send Kunoichi and Hunter to defeat them. However, Kunoichi is overwhelmed and  eventually defeated to Ami's shock. With no other options left, Ami is given Yusuke's Pandora and figures out the key to controlling it. Once she and Hunter defeat the Inbits, Yusuke allows her to keep his LBX. After Jin stops the train from crashing into Tiny Orbit in episode 28, Ami and the others are told by Yusuke that they need the help for a certain hacker from Akibahara to assist them with the encryption code for the Metanoia GX. By the next episode, she sets out with Ban, Hanzou, and Kazu to Akibahara.
To complete Otacross' trials, Ami is chosen by Ota Yellow to battle against her in episode 29. Despite being annoyed by his crush on her, Ami accepts the battle Bilinbird III strangles Pandora until Ami has her LBX knock it in the auxiliary part, flips Ota Yellow's LBX, and kicks it away. Furious, Ota Yellow activates Crazy Cyclone: a breakdancing barrage of bullet fire spinning at every angle, forcing Pandora to retreat behind one of the buildings in the city diorama. Eventually, Ami realizes the timing of Crazy Cyclone's attack and Pandora dodges the consecutive firing to defeat Ota Yellow & Bilinbird III with Souken Rangeki.
Danball Senki W
In episode 1, Ami is next seen in the store with Ban and Kazuya looking at the new LBX model that Takuya and Tiny Orbit announced: Achilles Deed. She even points out to Ban that's based off his first LBX. As the three got ready to battle at Kitajama's Model Shop, they witnessed Achilles Deed, followed by multiple LBX attacking the citizens in the mall. When the LBX stormed the area, the trio worked in tandem to fight off in brainjacked LBX. Pandora was even outpaced by a Deqoo. Takuya meets up with them, instructing Ami to take the downstairs floor where she is able to defeat a fair number of LBX. However, Achilles Deed's rampage escalated even further. She was gassed by a Deqoo and unable to move or control her LBX, she could only watch as Pandora was destroyed by Kunoichis as she passed out with multiple LBX surrounding and kidnapping her.
Later in episode 7, Ami is revealed to be the Slave Player in the panda suit. With her new LBX Dark Pandora, she dodges Minerva's Homura Kuzushi and defeats Ran with Souken Rangeki. Then in episode 8, her collar shortcircuits and falls off after being defeated by Ban and Otacross. After recovering, she headed back to Tokio City.
In episode 28, she returns alongside Yagami and the Black Agents when Prime Minister Zaizen sends in reinforcements to help the Seekers and NICS with the four control computers in Camberlin. Now that they show up, Ami and Yagami go to the fourth computer as Hiro and Ban go to the first, Jin and Yuuya the second, and Jessica and Ran the fourth. When Ami and Yagami arrive, they find Yamaneko. To her horror, Yamaneko is now a Slave Player and she vows to free him. In her D-Egg. She and Yagami launch her new LBX Pandora and Yagami with his General, preparing to fight Yamaneko and his new LBX Bloody Rippon alongside two Grey Maids.
In the crossover movie, she appears along with the whole team to try and stop the LBX invasion controlled by San in the Holy Road stadium. After Ban, Hiro and the others rescue Fran, she and Kazuya disappeared because Fran erased them when Ban and Hiro walked ahead, leaving Kazuya and Ami to walk behind, giving Fran time to erase them.
Recruitment
Danball Senki Wars
To recruit Ami, she needs to be defeated first in the Under-Ranking Battles. After doing so, she will be available on the LBX Player List.
She will have the following information:
Level at Recruitment: 100
SC Cost: 45000
Specialty Weapons:
LBX: Kunoichi
Armor Frame Levels

Knight: 50
Strider: 100
Brawler: 50
Wild: 50
Hissatsu functions
Danball Senki Wars
Trivia
In Season W, Ami uses a white-coloured frame Pandora after being released from Detector's control.
Ad blocker interference detected!
Wikia is a free-to-use site that makes money from advertising. We have a modified experience for viewers using ad blockers

Wikia is not accessible if you've made further modifications. Remove the custom ad blocker rule(s) and the page will load as expected.