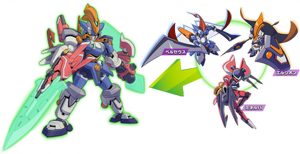 Σ Orbis's Docking Sequence
is a super-combination LBX program created by Professor
Junichirou Yamano
's, installed into the
Perseus
,
Elysion
, and
Minerva
. Ban, Hiro and Ran initiate this docking sequence in the most dire of emergencies. In order to be in perfect synchronization and control
Σ Orbis
, they endured Otacross's physical training. The result is a super-LBX that is commanded by unparalleled teamwork.
The sequence is followed through this order:
Process Start
Process One
Process Two
Sequence Gallery
Ad blocker interference detected!
Wikia is a free-to-use site that makes money from advertising. We have a modified experience for viewers using ad blockers

Wikia is not accessible if you've made further modifications. Remove the custom ad blocker rule(s) and the page will load as expected.